Revolutionise the way you track your image licensing
Media Register keeps all your license and usage details in one location. Easy to use, professional software for image buyers and creators.
Create
Create a license agreement in minutes.
With Media Register, creating a license agreement is simple. Define who the rights are licensed to, add the media, territory, period of use, then drop and drag images for a quick visual reference. Super efficient and easy to use.
Share
Share a license with clients and suppliers.
Share all or part of your license agreement with others. Sharing enables others to discuss license details, add comments, send expiry notifications and archive or renew a license.
Track
Track your license agreements in one centralised location.
Instantly confirm if an image is licensed, who it is licensed to and what it is licensed for. Our dashboard alerts you to recently added licenses, recently expired or due to expire.
Create a job folder in one centralised location
Upload images for a visual reference
Add one or more licence agreements to a job
Share a licence with other licence parties
Add private notes, files and attachments
Search to know instantly how your image is licenced
Receive notifications when a licence is due to expire
Rollover a licence with ease and transparency
Keep your licence and usage details in one central location
Our simple-to-use dashboard alerts you to recently added jobs and licence activity.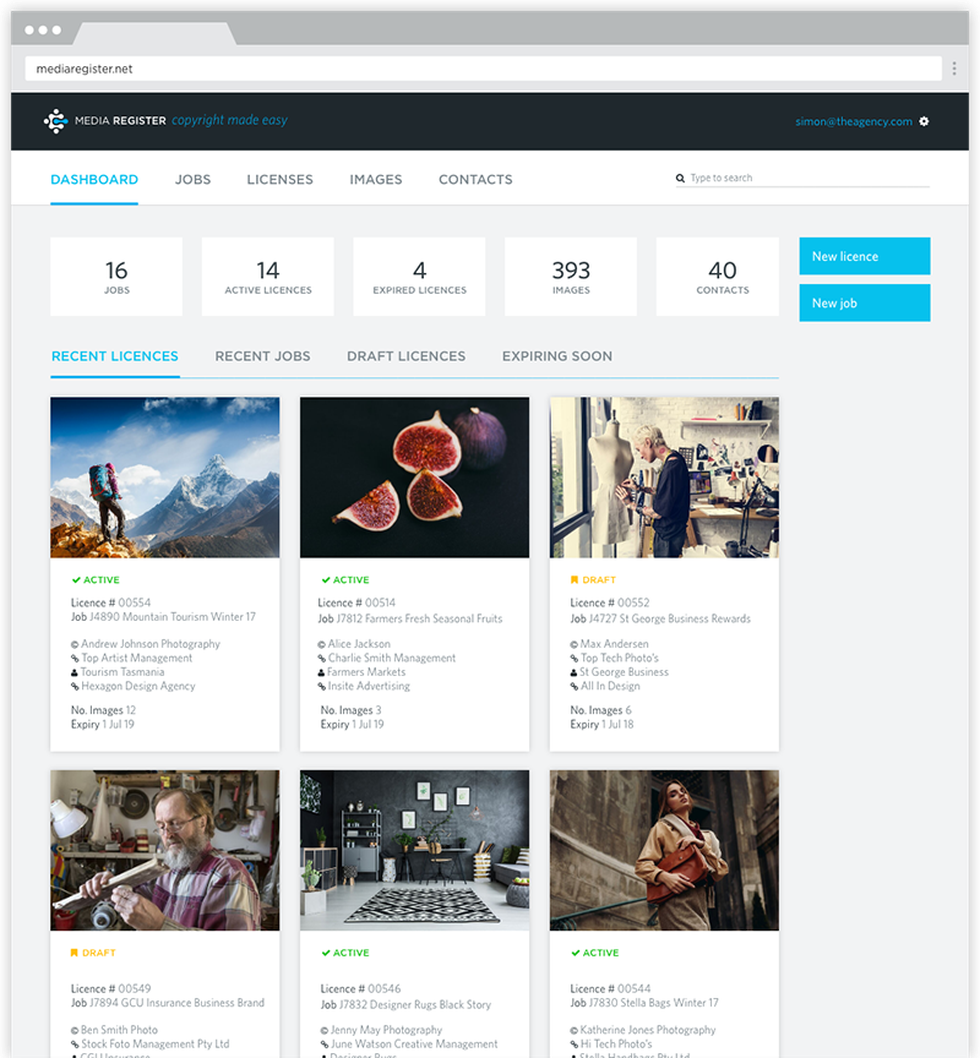 About Media Register
For those in the business of buying and selling photography, keeping track of image licensing can be a tedious and labour-intensive process.
Media Register was created in response to a demand from photographers and their clients for a better way to track and manage rights licensed imagery.
Our user-friendly interface is supported by a robust and sophisticated database that connects users with a platform for creating, sharing and tracking image license agreements. 
Designed to provide users with a new and improved experience when it comes to license record keeping, Media Register makes it easy for users to identify copyright information and collaborate around image licensing.
Start your free 90-day trial now
Access all our features without spending a cent. No monthly subscription, no credit card required. All licenses created in the trial period are free forever.
Free
$0AUD/month
20 free licences
Unlimited archived licences
Unlimited expired licences
Licence sharing
Licence expiry notifications
1TB (1024 GB) of space
1 user
Technical support
Starter
$19AUD/month
50 Active Licences
Unlimited archived licences
Unlimited expired licences
Licence sharing
Licence expiry notifications
1TB (1024 GB) of space
1 user
Technical support
Standard
$49AUD/month
150 Active Licences
Unlimited archived licences
Unlimited expired licences
Licence sharing
Licence expiry notifications
2TB (2048 GB) of space
3 users
Technical support
Premium
$149AUD/month
500 Active Licences
Unlimited archived licences
Unlimited expired licences
Licence sharing
Licence expiry notifications
Unlimited storage space
Unlimited users
Technical support